<! -------------- Add Marriage Photo To Table -------------- >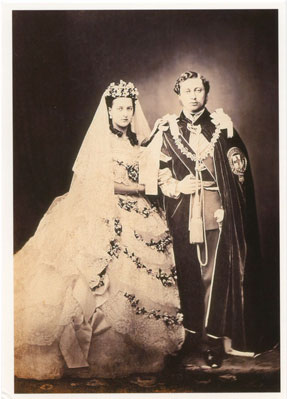 <! --------------- Place Descriptive Heading Underneath Photograph --------------- >
Albert Edward, Prince of Wales and
Alexandra Princess of Wales.
Photograph by John Jabez Edwin
Mayall, April 1863.
<! ---------- Create Right Side Table ---------- > <! --------------- Add Historical Details To Table -------------- >

Princess Alexandra was born 1st December 1844 in Copenhagen and Christened Alexandra Caroline Maria Charlotte Louise Julia.
She was Married on 10th March 1863 to Albert Edward, Prince of Wales, born 9th November 1841, the eldest son of Queen Victoria and Heir to the Throne, at St. Georges Chapel, Windsor Castle, picking up the Title, Princess of Wales.

There were Six children from the Marriage :-
Prince Albert Victor Christian Edward. Duke of Clarence.
8th Jan 1863 - 14th Jan 1892.
Prince George Frederick Earnest Albert (future King Geo. V).
3rd Jun 1865 - 20th Jan 1936.
Princess Louise Victoria Alexandra Dagmar (Princess Royal
and Duchess of Fife) 20th Feb 1867 - 4th Jan 1931.
Princess Victoria Alexandra Olga Mary.
6th Jul 1868 - 3rd Dec 1935.
Princess Maude Charlotte Mary Victoria.
26th Nov 1869 - 20th Nov 1938.
Prince Alexander John Charles Albert.
6th Apr 1871 - 7th Aug 1871.

On the death of his Mother Queen Victoria in January1901, Edward succeeded to the Throne as King Edward VII and was Crowned with Alexandra, Queen Consort at Westminster Abbey, 9th August 1902.

King Edward VII died 6th May 1910.
Queen Alexandra died at Sandringham on 20th November 1925.
Both are buried in St. Georges Chapel at Windsor.